To Our Valued Referring Offices,
We are now using dr2dr!
We invite you to use this seamless online program to securely send digital images and referral letters.  This 2 factor authentication system is approved by Alberta Health Services and is free for you to use.
To begin sending your electronic referrals now, please follow the steps listed below:
  If you have not already joined dr2dr, please do so. Its FREE to you.  Go to

Login, new user page.   https://www.dr2dr.ca/login
Welcome page with some info about it. https://welcome.dr2dr.ca/about/
NOTE:  if you are creating new account you will have to await approval of the account by Microquest before you can send referral, its usually quick.
Once you have created an account,you will see a page like this (with your name and/or your clinic name).
Click "start a conversation" (the big green button)
A page to the right opens up with the new conversation,

Under "To" typeARC, or Alberta Retina C  The list will start to populate contacts in dr2dr.   Choose ARC
Below"To" is the "Subject" line, which you may or may not need.
Below the "Subject" line  is the "Type" line.  This is where you select "consultation request" for a new referral.
Also, you can change priority and request an acknowledgment as well.

Complete the request(the diagnosis is mandatory).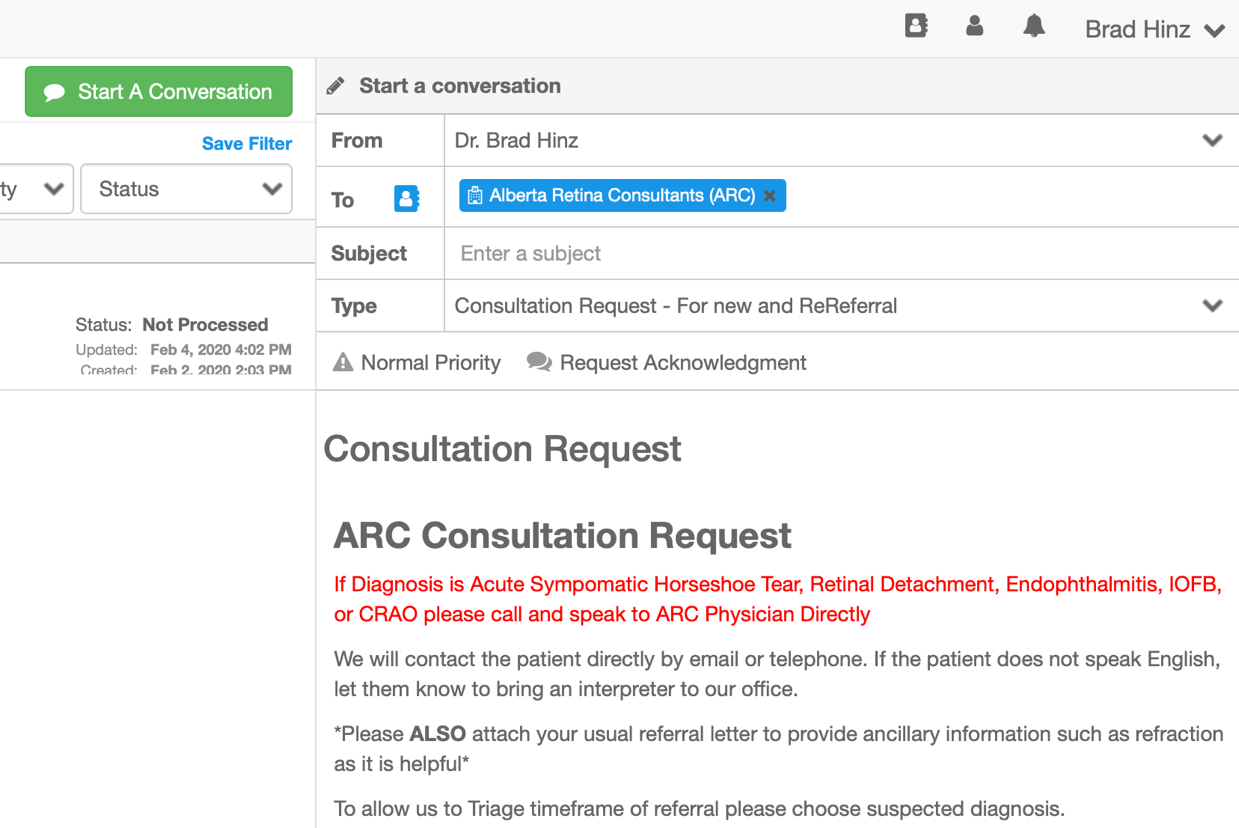 Click "Attach patient" and complete (this is mandatory as well).
Click "Add Attachments" to add images.  Thesecan be Color Photos, OCT, visual fields and a pdf of your referral letter or all of those.

Always start a new conversation/referral in dr2dr when you are re referring an existing patient to Alberta Retina Consultants.
If you have any questions or concerns regarding this process, please do not hesitate to contact Microquest at 780-438-3762 or email info@dr2dr.ca
We look forward to receiving your referrals via dr2dr.
---
Please fully complete this mandatory consultation form and fax to our office for each referral. You can download our fill-able pdf consultation form HERE.

You may also send your usual referral summary letter if helpful.

We will contact the patient to confirm the appointment date and time. We will make 3 attempts to confirm the appointment with the patient. If we cannot confirm the appointment, we will cancel the appointment. Your office can re-submit the referral request after confirming the patient's availability.

Additional information for patients is also available on the website HERE
The referral guide can be accessed HERE
---
IMPORTANT INFORMATION-October 2019
Dr. Khaliq Kurji is no longer accepting New Patient referrals at our office.  Please send all New Patient referrals to his other office:
Alberta Cornea Consultants
#250, 10216 124 Street
Edmonton, Alberta
T5N 4A3
Phone: (780) 432-1261
Fax: (780) 433-2247
Dr. Heather Burnett is no longer accepting New Patient referrals at our office.  Please send all New Patient referrals to her other office:
Oliver Eye Centre
11652 104 Avenue
Edmonton, Alberta
T5K 2T7
Phone: (780) 488-5600
Fax: (780) 488-5682